Partners, and the tools you need to leverage them.
You wouldn't buy a farm that didn't come with the dirt to farm... Why would you buy a PRM that didn't include partners? Partnerhub® is the place where digital agencies and tech solutions to find one another, align and grow together.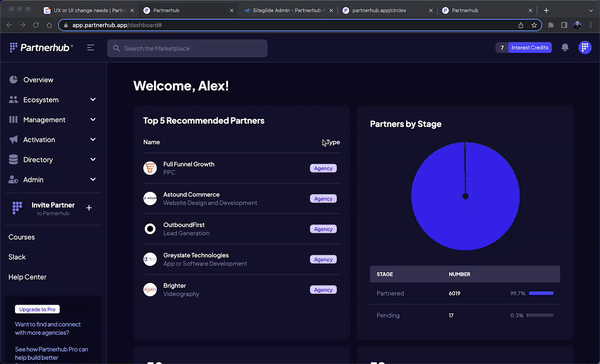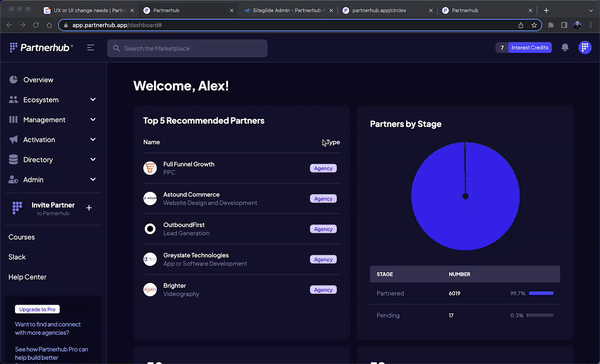 Partner Matchmaking
From day 1, you are matched with partners who sell to the same customer profile.
Partner Management
Referral tracking, tasking, documents, projects, contract creation... Add your partners.
Partner Directory
Display your partners on a subdomain or your website to refer more new business.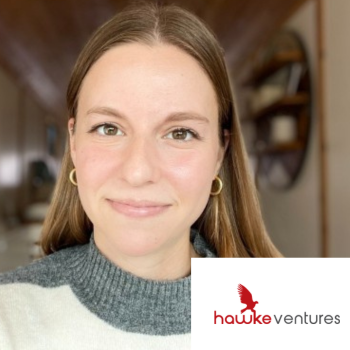 "We believe they are on to something big..."
"We believe they are on to something big... "My role on the Investment team at Hawke Ventures is to perform diligence on our portfolio and prospective companies analyzing financial performance, user commitment, team, and market size, amongst other factors. After interviewing a number of Partnerhub users, we believe they are on to something big and we are supremely confident in our decision to invest."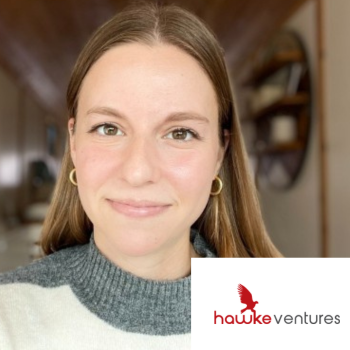 Hawke Ventures
Analyst, Hawke Ventures at Mara Chaben
Grow your agency or SaaS with partnerships!
Partnerhub® is the only platform of it's kind - purpose-built for matchmaking and activating partnerships between SaaS and Digital Agencies.

Search and receive requests
Our algorithm correctly matches partners by 5 customer profile signals, displays those suggestions for either user to send the request. Users can also shop the marketplace, post opportunities for segments of the ecosystem, and add their own partners.
Activate and enable partners
All the automations and assets in the world won't help you activate and enable your partners if you're having to chase them around Slack and email... Start by being in the same place. Now, let Partnerhub® make sure you are top of mind for your new partners.
Find and manage your partnerships in one place...
Everything, and every partner, you need to take partnerships-led growth to the next level.
Find
Partnerhub surfaces new partnerships for you based on overlapping customer profile.
Align
Review target customer/user size, vertical, use case, partnership opportunity... then choose.

Activate
The ability to serve potential partners opportunities regularly and they will request partnership.

Communicate
See the track ahead, then deploy partnerships, create tasks, chat, share documents, referrals...

Enable
Your partners see the track to success. And you both are able to push the partnership forward.

Integrate
Connect CRMs, Slack, and other tools to bring partner operations into your current workflows.
Directory
Publish a directory of your partners to a subdomain - managed through your Partnerhub® account.
Framework
Does your product support a large "ecosystem" of hundreds or thousands of partners? You may need the Framework...
Trusted by global organizations
Trusted by over 400 top SaaS and 2,000 top digital agencies
We worked hard to build a true ecosystem management platform.
99.99% uptime
For Partnerhub®, with zero maintenance downtime
5K+ Partnerships
Formed using Partnerhub® in the last year.
100+ countries
Have used Partnerhub® to create functional websites
$50+ Million
In new pipeline generated through Partnerhub®.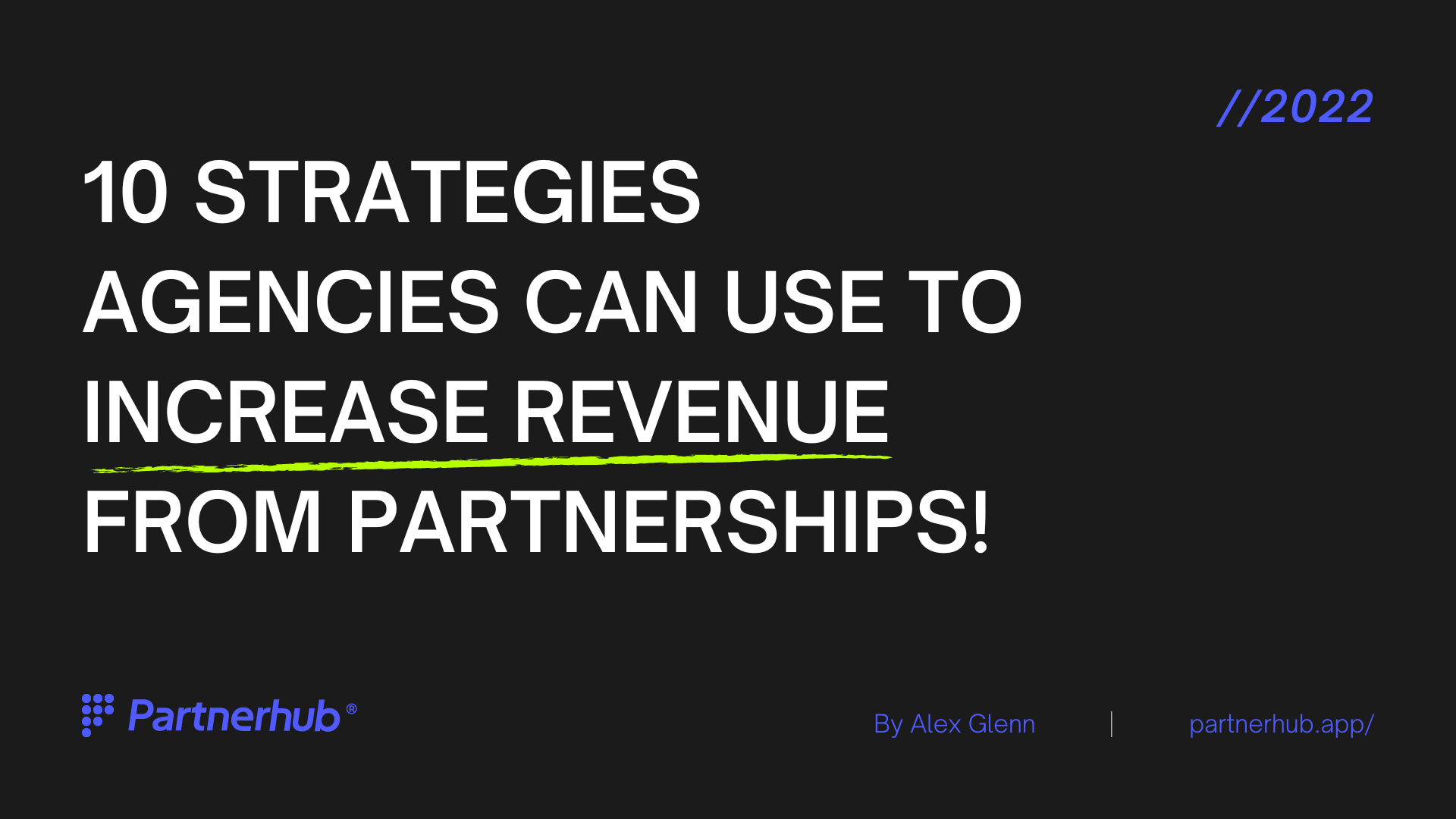 10 strategies agencies can use to ensure ROI from partnerships. Here they are...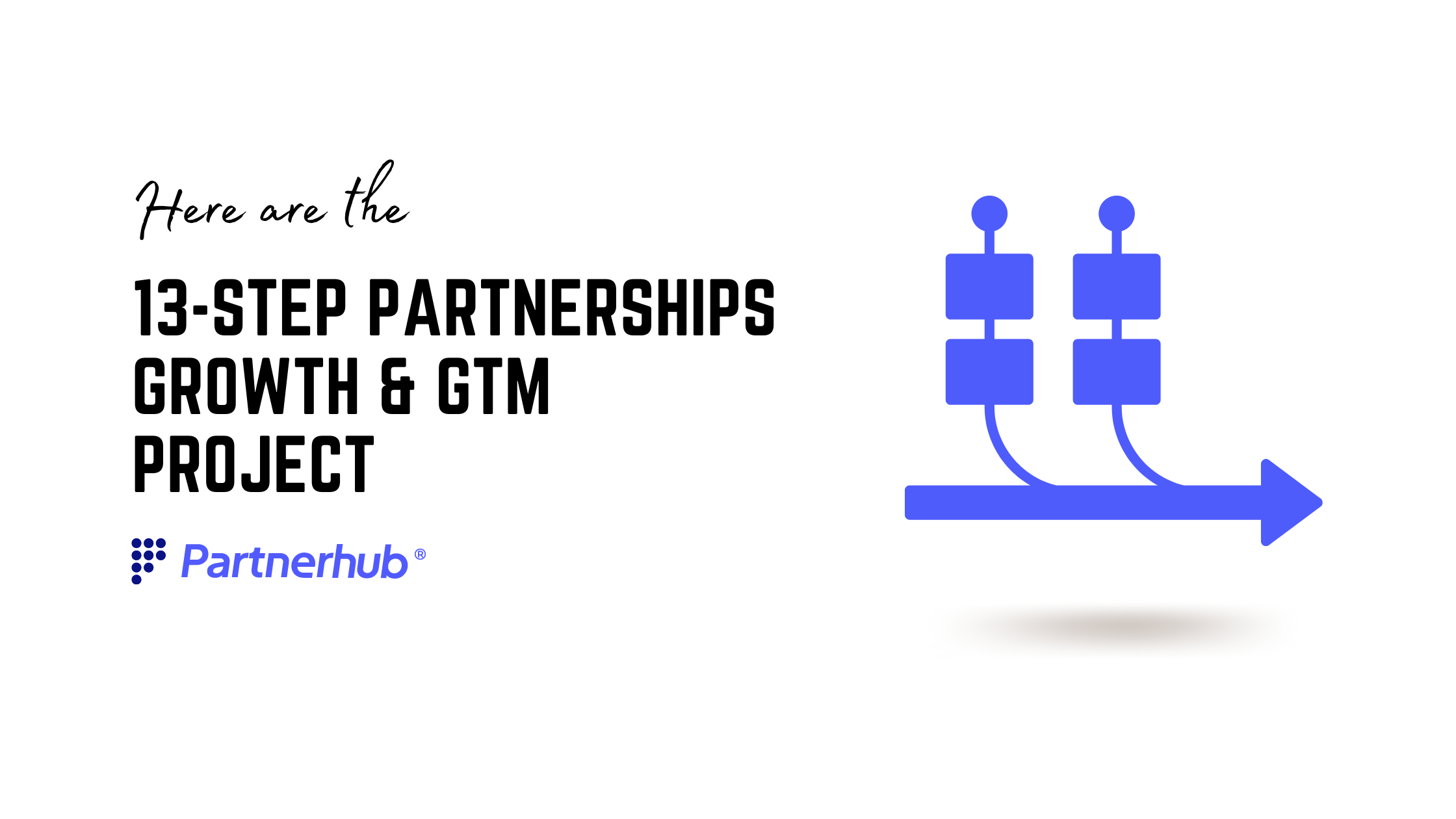 Use this project to ensure ROI from of your new partnerships, tech or agency partners, using a go-to-market plan!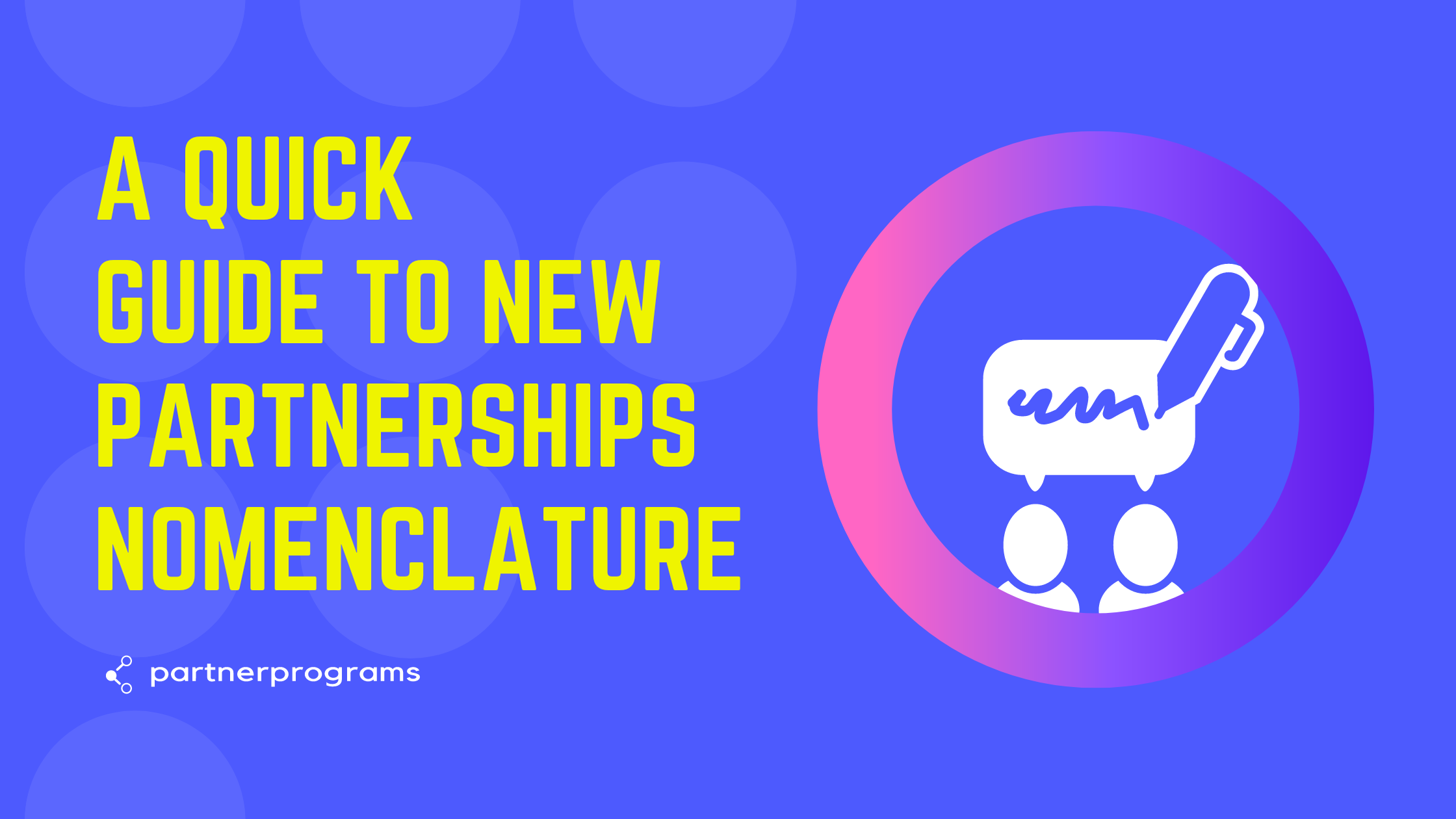 Here are the partnerships terms, sources, and meanings we have heard come out over the last year.
Frequently asked questions
Great question! Here are the main differences:
Features - Directory customization, CRM sync, Ai, Stripe Connect...
Circles - Create and collaborate with groups of partners on GTM, event leads, or house partners by tier.
Leads lists - Create and pipeline partner leads lists from our database.
Matchmaking - Automated matchmaking is reserved for Pro users.
Watch this video to learn more:
Our Zapier integration allows you to push Partnerhub® data and alerts to your other apps and CRM.

These are the triggers we have today:

New referral received
Activity alerts
New partnership request received
New task created
User showed interest
New Opportunity received
New Live Offer received
Here's the link to try this in Zapier >
Here's a walk-through video of CRM connection:
And, when a new request comes in, send a Slack message, then email that person links:

Log in, and set this up now: https://app.partnerhub.app/org...

One - Begin all your partnerships discussions with a Memorandum
Partnerships can fail to generate anything for either party simply because expectations weren't set and a plan was never created.
List out why you align - persona's, markets, geo.
Where are you going to promote one another? When?
What's the end goal of the partnership? And what is that going to take?
Two - Start with a co-marketing campaign to build synergy and create an audience
Too many partnerships are started with the ask of "What can you do for me?" When a true partnership should start with the question of "What can we do for each other?"
Courses
Events
Webinars
Guest posts
Expert interviews
Podcasts
Examples:
https://blog.nextinymarketing.com/make-easy-professional-quality-videos-with-soapbox-by-wistia
https://heap.io/resources/paving-the-funnel-scott-breitenother
https://smith.ai/blog/how-to-track-smith-ai-live-chat-in-google-ads-google-analytics

Three - Prior to any larger co-marketing campaigns, map accounts
Account mapping is the first step to co-selling. It's where you both load your customers and prospects (or sync CRM) to a secure third party software like Reveal to see if there is overlap, and view the size of the audiences on both sides (potential exposure).
Both parties have the view of the overlap and watch that as you run your co-marketing of the content to each others' audiences. Success can be determined by the value of the new leads that came from the partner, and tracked using this software/process.
Four - Set alerts in Sales Navigator when your tech partner hires a new CS or salesperson
CS are often those who refer to agency partners the most, followed by Salespeople. They can only support the user/prospect so much. The rest comes from service providers they know do great work with their solution.
1. Save the accounts (partner company names)
2. Set an alert for new hires under the title of CS / sales / BD and/or Partnerships.
3. Send that person a link to your agency profile document (links, services, client persona, goals…)
Here's an article on setting these alerts >>
Five - Stage out the partnership in task list Gantt format
We run client services in our project management solutions, why not do the same with our partnerships? Tech partnerships progress in the same flow. Put them all into a PM tool, and run them. This will ensure you are progressing and committing to grow revenue.
Vetting backlog >> Tinkering >> Demo >> Co-Marketing >> Partner Memorandum >> PRM Onboarding >> Product Training >> Co-Selling >> Trusted Partner
Six - Create a course that includes multiple tech partners
Courses can be great lead-gen for agencies. Further, they can be enormous for technology who simply can't teach their users what to do after the tool is setup up (that's your job). Aligning with a few tech partners on a curriculum that would increase retention for their solution, as well as bring you both new prospects, is a great way to partner.
Write up the general outline.
Pick out a few classes that can mention and even show how to use a certain solution.
Reach out to the partner teams at those tools as ask what they can do to support your agency in the creation of the course + marketing it (sponsorship, designing assets, linking to it…)
Give free seats to users of your tech partners.
Create a co-marketing agenda with your partners.
When you have aligned, launch the course.
Seven - Track the right partnerships-influenced KPIs
Pipeline velocity is the first to monitor. That is, how much faster are clients moving through the pipeline now that you have the co-marketing, co-selling and increased support from your new partner… And, another great KPI, is overall engagement on partner-led events. These are events that partners invite you to, or events you put on together. Monitor the RSVPs and show rate (not including clients of yours who show). These two are great partner success indicators.
Eight - Lean on partners for assets and copy
We've heard from several agencies that they'd love to market their affiliation and work to get more clients onto services that include the technology partner. But, they don't have the internal resources to allocate towards designing assets and coming up with copy… These are all things your tech partner should be providing you. My best tech clients have un-branded resource folders their partners can grab, add their logo, and start using in their services pitch.
Designed ads
Pitch decks
Product comparisons
Marketing materials
Landing page and email copy
Nine - For collaborative events - require you host the landing page
This is a strategy for those agencies who are in sales mode. When partners ask you to lead a webinar or other virtual event, where you are going to be leaned on to present, ask to host the landing page on your site or your events platform. It won't always fly, or make sense, but in the right circumstances, it will mean much higher returns because you gain:
Traffic to your site
Opt in emails for your list
Higher thought leadership than if you were seen as a guest
Ten - Finally, consider productizing services and white labeling for other agencies
Productizing is when you take the standardized services you know are rinse / repeat, putting a price tag on them, then listing them on the pricing page. This is a bigger strategy, sales, and ops shift, but agencies like our friend Richard at Six & Flow, Penguin Strategies, Flow Candy (eCommerce) have adopted with huge success. When your productize your services, there is a tool (or two) that are embedded in those services you may require clients to have or get. This brings opportunity to get referrals from the sales and CS people at said tech partner(s).
The next step to that is selling the productized service to other agencies. Then, you truly become a huge resource for your tech partners to help their new agencies sell more.

Here's a great example of productizing your services: https://www.penguinstrategies....
This is actually easy - if you are approved to join, you have what's needed to succeed.
But, for tech companies - to really grow your program inside - try to make sure you always have two things:


A Live Offer. These can be anything from co-marketing opportunities, events you want to include partners in, free accounts, white paper collaborations, podcast guest spots...
A great program incentives description like this one from our friends at SurveySparrow:
"White-label or use our account hierarchy to do custom implementations and managed services for your customers.
+ Social mentions and the opportunity to get showcased in front of our 100K customer base.
+ Revenue share of 25% of the revenue recognized from the customers brought in through the partner in perpetuity for the lifetime of the customer.
+ MDFs for demand generation - Co-marketing and co-creation with the partner.
- SPIFFs apart from the 25% commission!"
Yes. You can invite team members as Admin's or Member's. And, you can bulk import your entire roster, or add them one at a time.
Great question! Below are the feature comparisons between Partnerhub® and the top 4 Partner Relationships Management tools.
The main differences between us and other PRMs are as follows:

The main difference is how we are built - as a marketplace and matchmaking system for partnerships. We did not build Partnerhub® as a "PRM product". We built it to be used by both sides and enable more matches between the two.
We built this version primarily for our agency users. We maintain a 3:1 ratio of agency users to SaaS users so the features reflect that.
We are not an "affiliate" tracking or payout software. Solutions partners do not care about affiliate commissions, and usually won't use tracked affiliate links, so that is not a feature we have built yet.
However, we have a Stripe Connect integration in progress so you can send partners commissions or set them up on a payout schedule. It's just not link-based. Affiliate marketing is very much a marketing endeavor and should be handled with ads attribution software.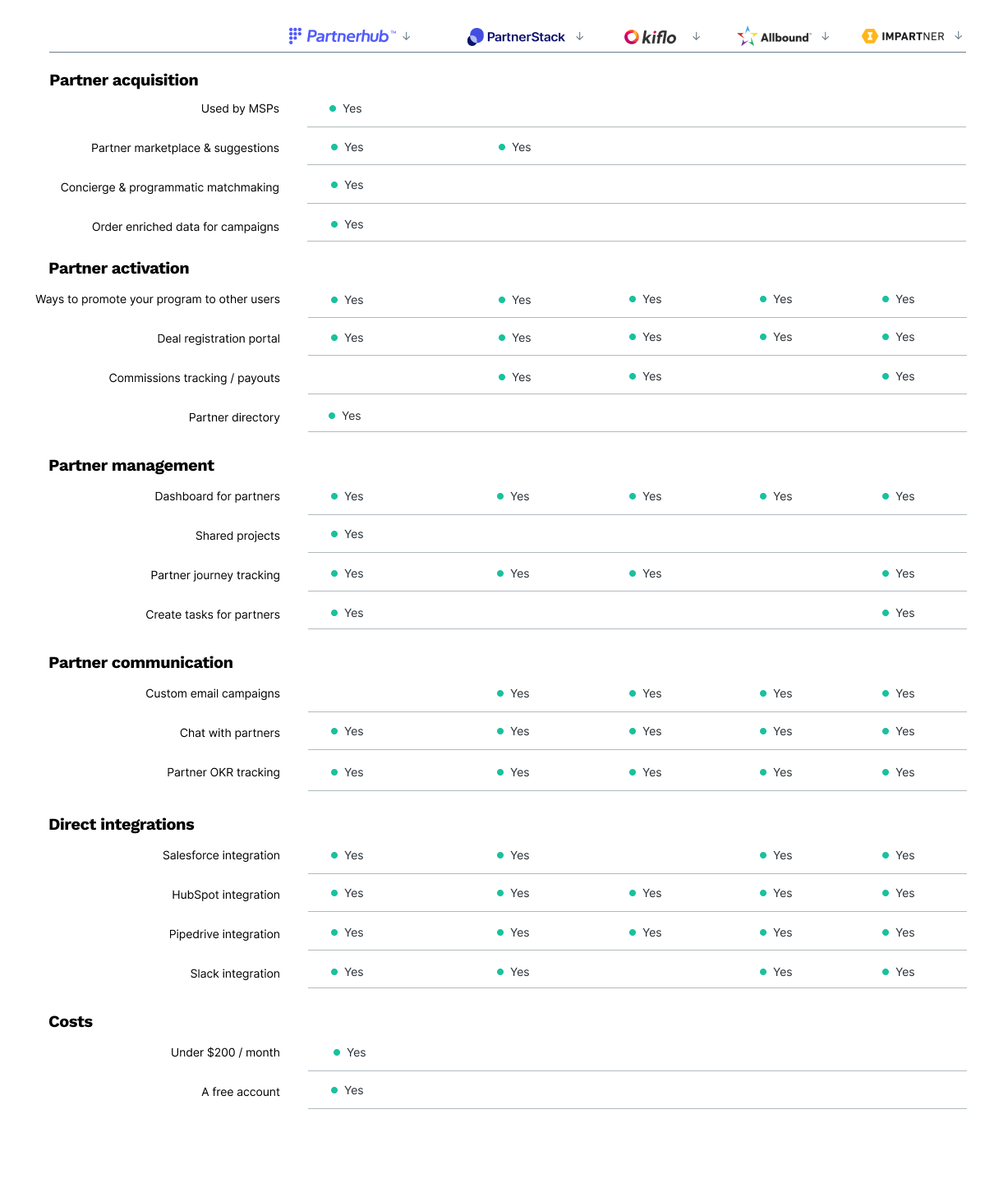 I asked one of our new users how it was going inside Partnerhub®... He said: "I haven't started using it yet because I am focused on ISV / integration partnerships..."
I sent him the video below showing how we have built features and projects for finding and managing tech-to-tech partnerships using:
1. The Marketplace filters to find and reach out to other tech companies who sell to your same customer profile: https://app.partnerhub.app/mar...
2. The Integrations project to manage the roadmap with your tech partners.
3. The Strategic Alliances project to manage relationships with tech companies you are working with, but not yet integrated with.
4. And the GTM project to collaborate on everything after the fact to promote your new technology alliances.
Add any of your current/trusted partners to Partnerhub so your team can add documents, assign tasks, and keep track of the partnership.
Adding Partners
Navigate to the Partners page
Click on the appropriate tab depending on the type of partner you are adding: Technology Partners or Agency Partners.
Click Add Partner (when on the Technology Partners tab) or Add Agency (when on the Agency Partners tab).
IF you have a lot of partners, use this CSV template - choose the one's you want to invite, and any you do not want to invite, simply mark column 2 as FALSE, and the template will only add their profile (without sending the invite).
Complete the contact details form and click Add.
**Note, the benefits of having your partners in Partnerhub® (inviting them) are:
You receive updates on referrals by stage (i.e. closed won).
You can tag your partners in tasks.
They can update their own profile in your directory.
They can join your Circles to GTM with you.
Also, better reporting.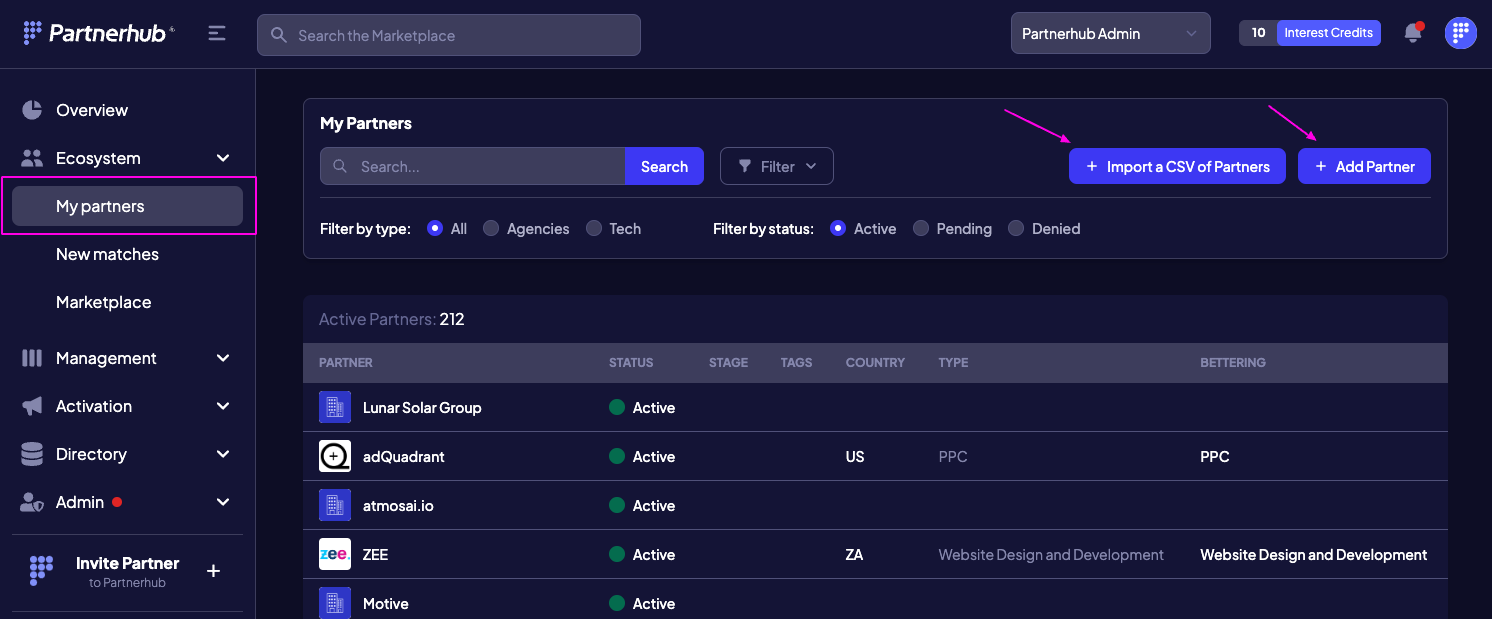 Once the form is submitted, Partnerhub® admin will check to see if that organization already has an account in Partnerhub®.
If there is a matching account, Partnerhub displays their profile so you can confirm the profile matches the organization you are adding. If so, click Yes, and the partner's profile is added. Since the partner already has an account within Partnerhub, their profile is enriched with the information they provided when creating an account and you can begin to interact with them directly in Partnerhub
Inviting Partners
If the partner you added does not have an account in Partnerhub, the organization's profile is created with the contact details you added. Your team can add internal documents, assign internal tasks and track the partner in any project.
Once you are ready to interact with the partner inside of Partnerhub, invite the partner to join by clicking Invite in their profile.
We ask you to include a note to partner you are inviting so the partner knows why they are receiving the invitations and so you can add a personal touch. This note is included in the email invite the partner receives once you click Invite.
Create your free account today!
*All companies must go through a short review process before you can be included in Partnerhub®.

Apply now

Liquid error: can't find partial "includes/code_snippet/1". url: www.partnerhub.app/ page: / partial stack: code_snippet, modules/siteglide_system/code_snippet